News from Lifestyle
Sir Ken Dodd: Fans turn out for comedian's Liverpool funeral
Thousands of fans of Sir Ken Dodd have joined friends and family to say a final "tatty bye" to the comedy legend at his funeral in Liverpool.
Some waved his trademark tickling sticks in the air at the end of the service at the Anglican cathedral.
There was also a rousing round of applause as his coffin was carried out to the strains of his song Happiness.
Children dressed as his colourful Diddymen characters followed the coffin out of the packed cathedral.

Image copyrightPAImage captionThe Diddymen were characters who often accompanied Sir Ken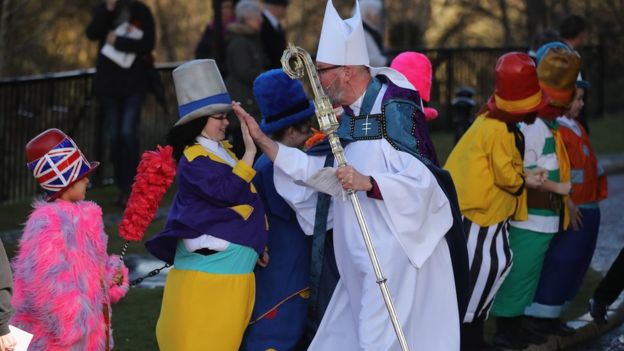 Image copyrightGETTY IMAGESImage captionAfterwards, they got high fives from Bishop of Liverpool Paul Bayes
Hundreds more people watched the service on a big screen outside.
Earlier, members of the public lined the six-mile route of his funeral cortege, which travelled from his Knotty Ash home to the cathedral.
At one point, a choir sang Happiness as the horse-drawn hearse went past.
The much-loved funnyman died at the age of 90 earlier this month. A private interment followed the funeral.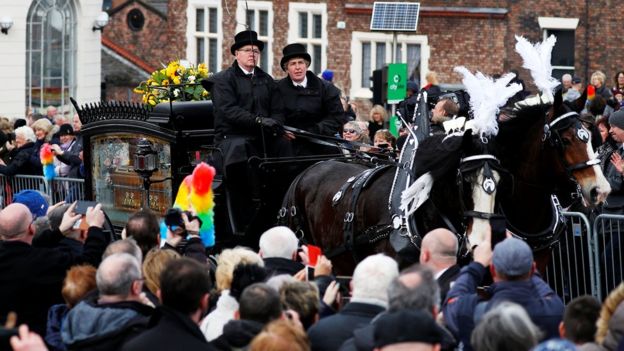 Image copyrightREUTERSImage captionThe funeral cortege was led by a horse-drawn hearse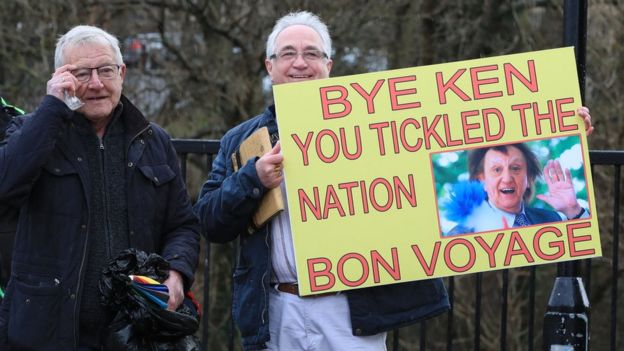 Image copyrightPAImage captionSome fans held up signs along the route of the funeral cortege
Fellow comedian Jimmy Tarbuck was among those delivering tributes during the ceremony, describing Sir Ken as "our city's hero, perhaps our city's greatest hero".
He said: "I'm pleased for Ken that there's yet another full house.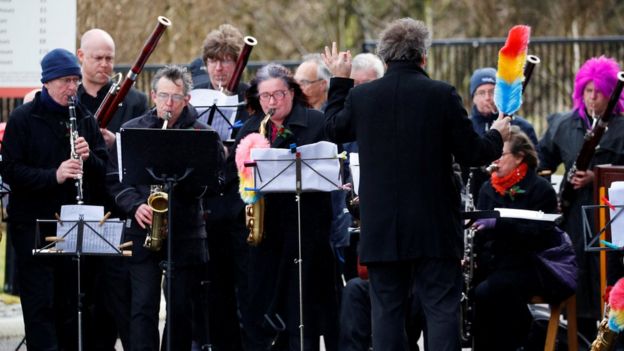 Image copyrightREUTERSImage captionA band played outside the cathedral – with the conductor using a tickling stick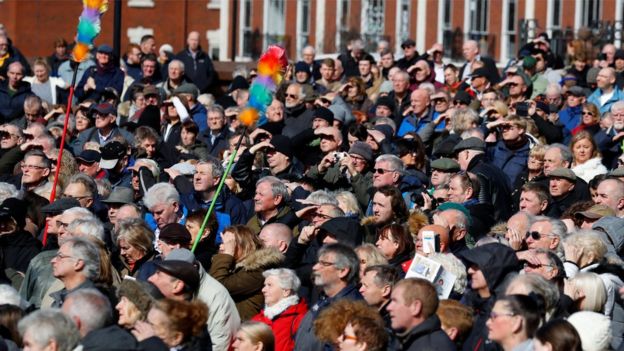 Image copyrightREUTERSImage captionThere were also tickling sticks in the crowd watching on a big screen
"Was he a good comic? No – he was better than that. He was the greatest stage comedian I've ever seen in my life," Tarbuck said.
"Live on the stage, he set a standard which no-one has remotely approached since."
Actress Stephanie Cole told the congregation Sir Ken was a "genius" who had "treated everyone equally".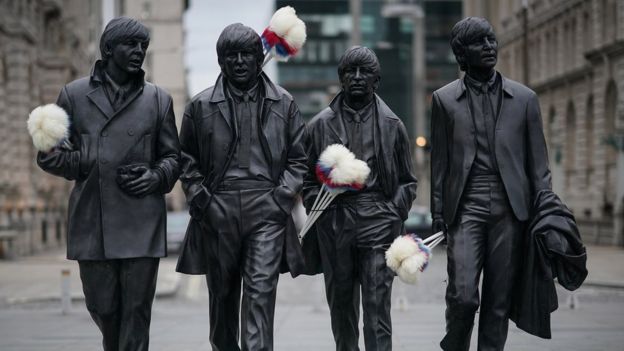 Image copyrightGETTY IMAGESImage captionTickling sticks have been placed on statues in Liverpool, including one of The Beatles
"He was kind, he was thoughtful, he had a real wealth of knowledge – he was a real polymath," she said.
"And always with a playful child inside him, never far away. I loved to talk to him about the mechanics of comedy and I learned so much from him."
Sir Ken's rendition of the song Special Absent Friends was played during the service.
In another emotional tribute, author, producer and friend John Fisher said: "Ken Dodd was, no contest, the complete comedian, our greatest entertainer. But he was more.
"He was a life-enhancing force of nature. He was a fount of charity, kindness and bonhomie, and a loyal friend.
"We'll never see the like of Ken Dodd again. Thank you, Sir Ken. Tatty bye."
Actors Ricky Tomlinson and Miriam Margolyes, comedians Stan Boardman and Jimmy Cricket, and TV executive Michael Grade were among the other figures from the entertainment world at the service.


At the scene
by Paul Burnell, BBC News website, at Liverpool Cathedral
The horse-drawn hearse arrived to warm applause as Sir Ken's local brass band played a medley of his hits.
Hundreds of people massed outside the cathedral in biting wind to watch the funeral on a big screen.
Young and old sat or stood to honour one of their own. Fans from all over the UK mixed with people on their lunch breaks to share anecdotes and shed a few tears among a sea of tickling sticks.
The service ended after just under an hour and three quarters – short by Sir Ken's standards – with the congregation singing Sir Ken's anthem Happiness and giving the comedian a standing ovation.


Meanwhile, tickling sticks were positioned on statues and public buildings in the city in his honour, and flags at the Town Hall, St George's Hall, Cunard Building and Central Library were lowered for the day as a mark of respect.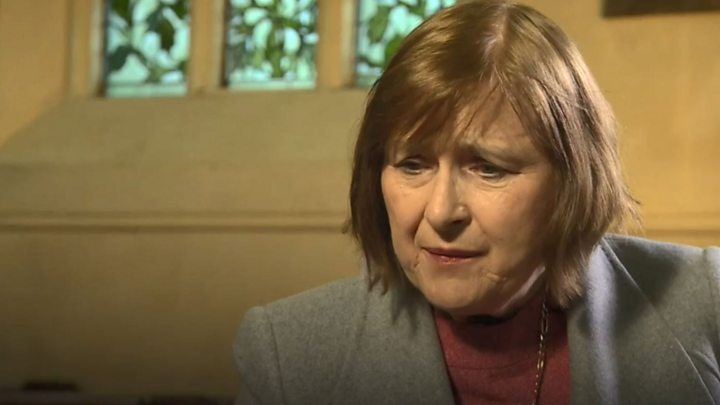 Media captionLady Anne Dodd, the widow of Sir Ken Dodd, talks about the tributes paid to him
Sir Ken, one of Britain's most recognisable entertainers, was born in 1927 in the suburb of Knotty Ash.
He died just days after marrying Anne Jones, his partner of 40 years, at their home.
Speaking to the BBC's North West Tonight, she said the support she had received from Sir Ken's fans had been "unbelievable".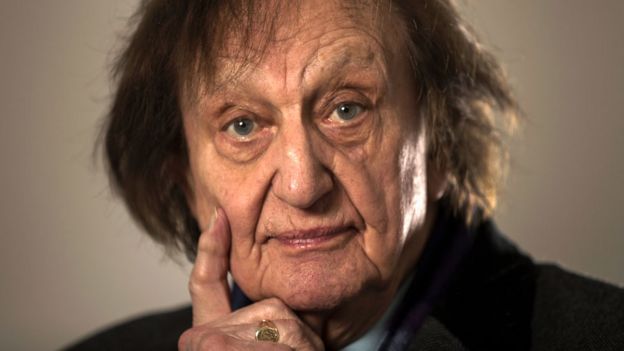 Image copyrightGETTY IMAGESImage captionSir Ken was one of the UK's best-loved entertainers for 60 years
"I couldn't have imagined it would be as it has been," she said. "We've had a tremendous amount of flowers."
She attributed that in part to the "tremendous empathy" her husband had "with people he knew and people he didn't know".
She told North West Tonight's Roger Johnson: "You look at [the messages] and you know there's so much love there. He loved his audience and he loved what he did."